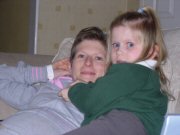 Hospital today was the usual: in, bloods done, read book, wait, lunch, listen to iPod, read book, get to go home.  My haemoglobin is 9.6 (was 9.5 on Friday).  My consultant thinks this may well be where I would be normally because I'm pregnant with twins (boys! still getting my head round that – everything for the kids is pink and purple).  I think Charlie's sweating already at the thought of me with a Mothercare account card :-).
The good news is that my consultant is pleased with my progress.  He looked at my bone marrow and is content with the effects of the ATRA drug I'm taking.  I'm not yet in remission but I am where he would hope I would be in my treatment.  Hopefully, I'll get the results of the genetic tests on my bone marrow on Friday.  These will indicate the detail of how my treatment is progressing.  The upshot of all of this is that I'm still a patient in the Ward with a bed etc. BUT I only have to go into hospital on Mondays and Fridays – praise God! 
There was a great present waiting for me when I got home from hospital – a box of chocolates (the best type – Chocolate Club – very fresh!), wrapped in red tissue paper with "Vanessa – xxx" on them…mysterious!  Must have been the man from milk tray (well red is the new black!?!? 😉 Thank you whoever you are…"xxx" back.
Amber and Megan have really enjoyed the snow – I haven't been able to go sledging with them but it's great to see them enjoying themselves. They have a green and purple